This term has seen the continuation of the new weekly playground initiative P.A.L.S (Playground Activities Leaders) at lunchtime. This is an introduction into leadership, giving children knowledge of how to organise and lead small games and activities for their peers.
Aims:
There are opportunities for the young playground leaders to:
Develop leadership skills such as – organisation, communication and teamwork
Build confidence and self-esteem
Be responsible for leading their peers and groups of younger children
Increase the variety of play experiences available for the children promoting physical, social and creative opportunities
Improve children's choices and positive behaviours on the playground
Reflect and evaluate on what is working and areas for further development
The initiative will continue to build upon the play zones that were established last year. Resources have been purchased and a member of staff has been identified to support with targeting play outside to include, games, arts and crafts in the Crusoe cabin and more active play like skipping and cricket. A craze of the week will be introduced on Friday in assembly which will also be supported by the PALS team so children can improve their skill throughout the week. This could involve skipping games, cat's cradle, dance and circle and clapping games.
We continue to reflect and review how successful playtimes are outside and the positive experiences they bring for all children. A P.A.L.S job description and application form was circulated to the children in Year Six at the beginning of the term for those interested in being involved in the leadership role. The successful candidates have recently met with Mrs van Manen to talk about what the role entails. The children are incredibly excited and have lots of ideas of different ways they would like to engage their peers in play.
Team 1:
Standing from left to right: Julia, Joshua and Ilayda
Sitting form left to right: Roselia and Kiara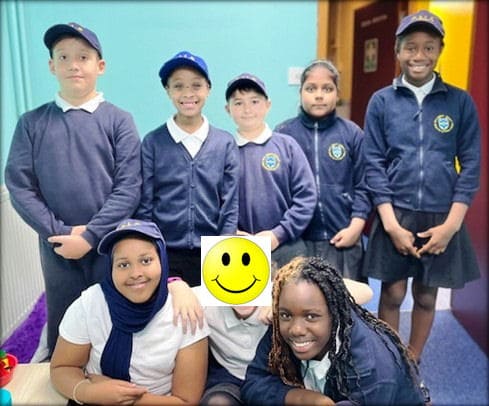 Team 2:
The PALS will organise weekly activities that will target the interest of all of our children from Years 1 to 6. The children will keep a record book that will include information on such things as: a log of the games that they have played and the children have enjoyed, how active the games were, how many children took part, names of children or classes that played well together; list of equipment that was lost or needs replacing and more in order to evaluate the success of their support.
Our Midday Supervisory Team
We have a dedicated team of experienced Midday Supervisors on the team at William Morris Primary school, many whom have worked with us for a number of years now and are committed to supporting the lunchtime experience.
We have five Midday Supervisors on the team at William Morris Primary School. They play a major role in the caring of our children during the lunchtime period. They have a positive and significant impact on our children's social learning and self-confidence. A positive and healthy attitude to food and eating are encouraged every meal time. Our Midday Supervisors understand that children learn just as much at playtime as they do during lessons and therefore actively engage in play and conversation with the children, encouraging children's own games, rather than just supervising them.
The Midday Supervisors look for and reward good behaviour and are aware that different children have different needs. All the Midday Supervisors have good relationships with the children which helps to ensure that lunch times are an enjoyable and exciting time of the day!
We stagger our lunch play to make sure all children get an equal amount of playtime and the playground is not overcrowded. These are the timings for this academic year.
| Class | Time |
| --- | --- |
| HAMILTON | 11.30 - 12.30 |
| BECKHAM | 11:30 - 12:30 |
| ARMSTRONG | 11:45 - 12:30 |
| KINGSLEY | 11:50 - 12:30 |
| MOZART | 12:00 - 12:45 |
| POTTER | 12:10 - 12:55 |
| PRESLEY | 12:15 - 13:00 |
| FARAH | 12:20 - 13:05 |
| LUTHER KING | 12:25 - 13:10 |
| ATTENBOROUGH | 12:30 - 13:15 |
| MONET | 12:35 - 13:20 |
| GATES | 12:40 - 13:25 |
| GLENNIE | 12:40 - 13:25 |
Hot meals every day
Hot meals are provided for the children every day in school. They are charged at £2.12. Our catering company is CHARTWELLS.
For more than a quarter of a century, Chartwells has focused on helping young people build strong bodies, sharp minds and to lead long, healthy lives. To Eat, Learn and Live. Chartwells dishes up great tasting, fun and nutritious meals to schools, academies, colleges and universities, and provides all of the support services – from facilities management to cleaning – to help fuel inquisitive minds. Food for thought!
We're giving children all the get up and go they need with our tasty food and unrivalled approach to school meals. As well as providing thousands of meals daily to students across the country, we run activities and workshops to encourage healthy eating and inspire good, lifelong habits.
We don't just want children to eat our food... we want them to LOVE it. We wholeheartedly believe that lunchtime should be a fun part of the day, jam-packed with lots of different, flavoursome and healthy food.
We want to set young people up for their day, and for a lifetime of good eating habits. Ensuring every child has the same opportunity to develop and make a positive contribution at school, by having access to fresh, healthy and great tasting meals. Our nutritionists and chefs go to great lengths to create food that looks good, tells a story and is in tune with the latest trends – because that's the food children tell us they want. In their words: food that's "tasty, lovely and delicious". And we serve it in fun and innovative spaces that are as inspiring as the classroom.
There is a tri-weekly menu cycle where you can monitor what your child is eating in school. https://loveschoolmeals.co.uk/wp-content/uploads/2018/11/Standard.pdf
Dietary requirements and allergens:
Individual menus are devised for those children with particular allergies or dietary requirements. Please note, it is extremely important that you inform Chartwells of any allergies/intolerances that your child has should they currently eat with Chartwells, or wish to start eating with Chartwells. We welcome all children with allergies/intolerances and providing we deem it safe to do so, an appropriate meal can be provided daily in line with our internal policies and procedures. Please speak with the office if your child has an allergy to request a special diet form to be completed and returned. Please return all forms to us, along with medical evidence, two photographs and details of the school that your child attends to Michelle Pike michelle.pike@compass-group.co.uk.